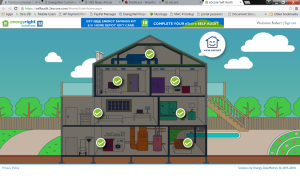 Hopkinsville Electric System is teaming up with TVA to promote smarter energy use across the Valley. By devoting a few moments to take the EnergyRight Home Energy Self-Audit, you can quickly and easily discover ways to reduce energy consumption in your home and reduce your energy costs. The self-directed audit is easy to complete. Simply open the EnergyRight Self-Audit webpage, then follow the prompts to answer questions about each room in your home. Once you've completed answering the questions, you'll receive suggestions for ways to save energy in your home. If you'd like a real TVA energy efficiency expert to assess your home, a virtual home energy efficiency audit is also available through the EnergyRight program.
If you'd like to take the EnergyRight Self-Audit, click here.
If you'd like to request a professional virtual evaluation of your home by an EnergyRight energy efficiency expert, click here to register your home with the EnergyRight program. Once you've registered, you can request the professional virtual audit.
---