A recent arctic blast of unusually low temperatures will cause upcoming electric bills to be higher than normal. As the outdoor temperature dips into the teens or single digits, home heating systems must run longer and more frequently to maintain the desired indoor temperature. Some all-electric heating systems must also activate internal supplement heating elements to develop adequate heat, causing the unit to use more electricity than normal. The longer run times and the use of supplemental heating elements use more electricity, pushing electric bills higher than normal.
To help reduce electricity usage during times of extreme cold weather, it is important to assess the air sealing of your home. Anywhere there is an air leak, such as at doors, windows, attic entry doors, outlet covers, or holes for plumbing pipes, cold air can easily leak into the house, making your heating unit work longer to maintain your desired temperature. Using caulk, expanding foam, weather stripping, or similar materials to seal these leaks will help your home retain the heat developed by your heating system. You can find other tips for reducing your electricity usage by clicking here.
HES offers our customers access to the TVA eScore Program. The eScore program offers home owners the opportunity to conduct a free, self-directed home energy efficiency audit, or to request a home energy efficiency evaluation by an energy efficiency expert for a nominal fee. The program offers cash rebates to customers for making energy efficiency improvements to their home, thereby lowering their electricity usage and reducing electric bills. To conduct a free energy audit on your home, or for more information about the eScore program, please visit the eScore website by clicking here.
HES customers may also monitor their energy usage by creating an account at MyUsage.com. This free service provided by HES allows you to view your last 30 days of energy usage. The usage chart (see example below) also shows the high and low temperatures for each day, which clearly illustrates the effects extreme high and low temperatures have on the amount of electricity used by your air conditioner/heater to cool and heat during those times. In the example below (from a recent actual customer account), notice that as the low temperature of the day (shown in blue) has gone lower, the electric usage (illustrated by the green bar) has gone higher as the heater had to work more frequently to maintain the desired indoor temperature.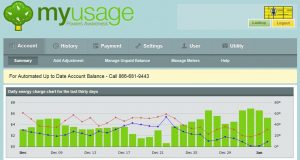 During times of extreme high or low temperatures, many people feel that electric utilities raise rates to make more money. This is certainly not true for HES. HES purchases its power from Tennessee Valley Authority (TVA), a federal government agency. HES and its electric rates are also regulated by TVA. HES electric rates may only be changed by contacting TVA and requesting a rate change. TVA requires access to relevant HES financial data to assess the need for a rate increase request, and the increase is only granted if TVA is convinced it is necessary to maintain the financial health of HES. This process usually takes a minimum of three months.
HES and its customers are very fortunate that HES is able to purchase electricity from TVA. TVA provides some of the cheapest electricity in the U.S. According to the U.S. Energy Information Administration,  as of October, 2017, Kentucky had the eighth lowest average residential electric rate in the U.S. At that time, Kentucky's average residential electric rate of 10.94 cents per kWh (kilowatt hour) was approximately 11% lower than the national average rate of 13.86 cents per kWh. By way of comparison, in October of 2017, HES's residential rate was 8.322 cents per kWh, which was 24% lower than the Kentucky state average for the same time period. It is a fact that Hopkinsville residents served by HES pay some of the lowest electric rates in the nation. Additional information comparing HES residential electric rates to those of all U.S. states and the states that surround Kentucky can be found here.
HES is a municipal electric utility, meaning that it is owned by the city. HES exists to serve the residents and businesses of Hopkinsville. HES is also a non-profit agency. HES electric rates are set only high enough to maintain the financial health and operational stability of the utility to serve the residents of Hopkinsville. HES has always strived to have and maintain some of the lowest rates not only in the region, but also in the nation. We are proud of the service we provide and are committed to keeping rates low and service levels high.