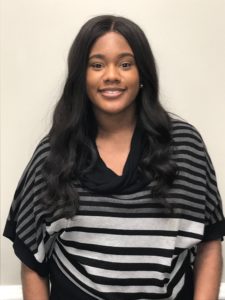 We like to think we make a positive difference in the community we serve. Our jobs are more than providing low-cost, reliable power and telecommunications.  It's about people serving people, the core of the public power model. So, today we highlight one of our own – Ebony Sivils.  Ebony started at HES many years ago as a co-op student while attending HCC. Due to her hard work and customer service oriented attitude, she is now a full-time HES Customer Service Representative. On any given day, Ebony interacts with customers face-to-face at the HES office, and also talks with them over the phone. Ebony's job includes helping new customers start electric and internet services as well as assisting current customers with any needs they may have.
Ebony definitely enjoys being around people and likes spending her spare time with family, friends and her Delta Sigma Theta sorority sisters. She loves to help others and works with her sorority sisters to orchestrate community service events. When asked what she liked about her job, Ebony complimented her fellow customer service representatives and said, "If I need anything I know I can count on them. We will get the job done for our customers!" When asked about the importance of HES/energynet for Hopkinsville, Ebony says, "We are all so dependent on electricity. It plays a vital role for our customers in their day-to-day lives and helps our businesses thrive."
HES/energynet is locally based, with offices you can visit or call directly to conduct business with employees like Ebony, who are part of the community. We don't want you to spend more than you have to for energy or internet service. Our electric and internet rates are set to cover the cost of running our business and to make investments that will keep our system operating efficiently and reliably into the future.  After the bills are paid, the remaining funds are re-invested in our utility to make it better.
We celebrate the public power model all year long. And we say "Thank you" for the trust you have placed in us. Our commitment is to the community we serve. We're your neighbors and we happily serve the people of Hopkinsville-Christian County today to generate a better tomorrow.
We live, work and play here, too! That's what we mean when say we are Community Powered."