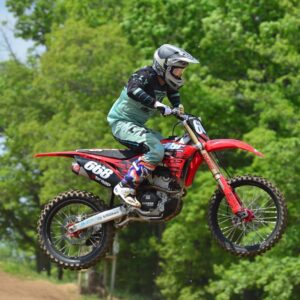 We like to think we make a positive difference in the community we serve. Our jobs are more than providing low-cost, reliable power and telecommunications.  It's about people serving people, the core of the public power model. So, today we highlight one of our own – Taylor Downs.  Taylor started at HES in 2019 as the Data Systems Technician. Taylor works to create and maintain the digital map of the electric system, which replaces the older, paper maps. By digitizing the system map, HES is able to leverage modern technologies to perform deeper analysis of the electric system and make improvements in operating efficiency and reliability.
In his spare time, Taylor enjoys riding dirt bikes. In fact, he's been competing in motocross events for the past 15 years. He also enjoys working out at Crossfit Serenity which undoubtedly helps keep him in shape for his motocross riding. As a newer employee at HES, Taylor likes being able to learn new things about electric systems. The work he does on the digital mapping system also helps others at HES with their job of repairing and maintaining the electric system for maximum reliability.
HES/energynet is locally based, with offices you can visit or call directly to conduct business with employees like Taylor, who are part of the community. We don't want you to spend more than you have to for energy or internet service. Our electric and internet rates are set to cover the cost of running our business and to make investments that will keep our system operating efficiently and reliably into the future.  After the bills are paid, the remaining funds are re-invested in our utility to make it better.
We celebrate the public power model all year long. And we say "Thank you" for the trust you have placed in us. Our commitment is to the community we serve. We're your neighbors and we happily serve the people of Hopkinsville-Christian County today to generate a better tomorrow.
We live, work and play here, too! That's what we mean when say we are "Community Powered."